Greetings folks! Looking for a cute little Christmas present for someone? A new calendar for the new year?
I just so happen to be taking pre-orders for the Rare 2010 calendar! Their are only 180 copies in total(artists involved have 15 each) of this calendar!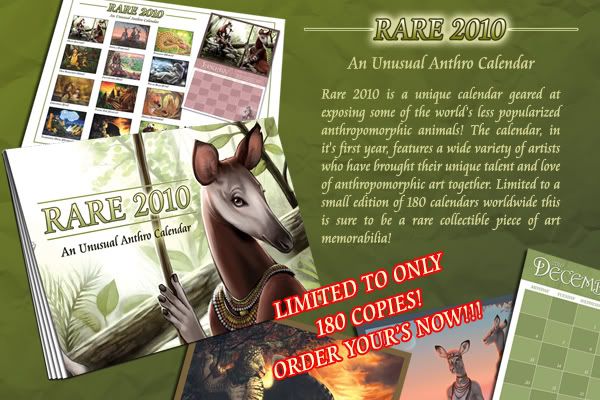 Calendar Details This 12 month calendar features large boxes to record special events, and a short mythology of each creature depicted. They are full color, 8.5 x 11 inches, 100 lb gloss cover, 80 lb matt text inside pages.

Artists and Species Drawn: Nimrais (Okapi), Synnabar(Pangolin), Balaa(Impala), Char reed (Tree Kangaroo), Sekhmet (thats me!- Jaguarundi), Katrine Hagmann (Polar Bear), Mondeis(Crocodile), Qzurr (Flying fox), Katie Hofgard aka Wolfnymph (Dhole), Heather Bruton(Tasmanian Devil), Ashalind (Panda) and Alector Fencer (Harpy Eagle).

About Ordering: All prices are in USD. The calendar itself is $20.00 USD. The added cost on the button is of course the shipping price. All you need to do is select where you reside. Calendars will be sent out as soon as I recieve my copies(they are currently being printed). All sales are final except in the case of a print error. Purchase/reserve your copy today! :) (I only have 15 copies!) Should you want your calendar signed(in gold :)), I will gladly do that for you at no extra charge(just let me know!).




Thanks for looking!
______________________________
Click To Visit Our Website!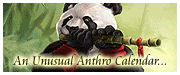 PS: I tried to make this post as small as possible to not eat up your friends' pages!
Also: x-posted in many places. Sorry for the spam lately guys 9.9